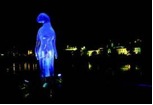 Kiosque à Culture à Berlin
Participation à l'exposition GLEISDREIECK BERLIN 2012 | Kunst im öffentlichen Raum.
For decades, an inner-city wilderness had developed in the very heart of Berlin, on a post-war wasteland to the south of Potsdamer Platz. 2009 brought tabula rasa for the site of the former railway station Anhalter Bahnhof. The municipality, investors and citizens' movements competed for planning opportunities and a share in the sought-after open space. The historical location at the Gleisdreieck subway station, where the park lying to the east was inaugurated in 2011, and where the German Museum of Technology upgrades the barracks at the team track ("Ladestrasse"), is the setting for the exhibition GLEISDREIECK BERLIN 2012.
The two Swiss curators Francine Eggs and Andreas Bitschin present installations, audio and interactive works, spatial drawings, photographs, and performances, which were created on site by 20 Swiss and Berlin artists and give the park landscape a new aesthetic and cultural dimension. The works are commented on in detail in the exhibition's accompanying book of the same name. The site and the exhibition overlooking the park, as a cultural landscape, are presented through comprehensive essays.
Christine Berndt (D), Andreas Bitschin (CH), Michel Bonvin (CH), Mio Chareteau (CH), Fabiana De Barros (CH), Rudy Decelière (CH), Francine Eggs (CH), Fred Fischer (CH), Tanja Hemm (D), Loris Jaccard (CH), Mona Jas (D), Livia Lauber (CH), Ellen Kobe (D), Vanessa Mayoraz (CH), susanne muller (CH), Victorine Müller (CH), Matthias Pabsch (D), Jean Scheurer (CH), Andreas Schmid (D), Anna Schmid (CH), Elisabeth Sonneck (D), Falk Weiss (D), Käthe Wenzel (D)
GLEISDREIECK BERLIN 2012
Kunst im öffentlichen Raum
Editor: Francine Eggs / Andreas Bitschin / Marvin Altner (Hg.)
GERMAN
80 Pages
with 45 col. Images
Softcover
Dimensions: 15 x 21 cm
Euro 14.95  sFr 20.95
ISBN 978-3-86859-193-4
Date of publication: approx. September 2012